A Complete Alarm Detection System in a Low-Cost Dial Up Remote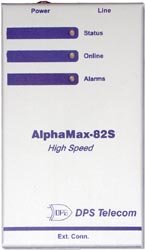 AlphaMax 82S
Dial Up Remote Alarm Detection System
If you've been looking for the ideal remote for monitoring small sites, the AlphaMax 82S might be exactly what you're looking for. This dial up remote is compact, easy to install, and it reports directly to numeric and alphanumeric pagers, making it easy to install a remote alarm detection system anywhere you need it.
The AlphaMax is versatile enough to be installed almost anywhere: at cell sites, communication towers, railroad crossings, refrigeration systems — at any facility where it's important to have immediate notification of changing conditions.
Dial up remote alarm detection system reports directly to any pager
The most appealing feature of the AlphaMax is that you don't need any extra equipment — not even an alarm master — to monitor your remote sites. This dial up alarm detection system can report directly to any numeric or alphanumeric pager, putting a complete remote monitoring solution directly in your pocket or belt clip.
You have several options for configuring how the AlphaMax dial up remote reports alarms:
Unipolar or bipolar operation: Each alarm point can be configured to report only alarm sets (unipolar operation) or both alarm sets and clears (bipolar operation).
Alarm qualification times: You can set an alarm qualification time to filter nuisance alarms (temporary and oscillating conditions). The redial option configures the AlphaMax to redial
Redial option: The redial option configures the AlphaMax to redial the primary pager number up to 15 times if an alarm is acknowledged.
Primary and backup pager numbers: Even the best on-call technician occasionally fails to respond to alarms. A backup pager number ensures that if the first technician doesn't acknowledge an alarm, a second technician or a supervisor will be paged.
The AlphaMax isn't limited to pager notifications, however. The dial up remote alarm detection system can also forward alarms to ASCII terminals for recording alarm events. And if you want to integrate your AlphaMax sites with the rest of your network monitoring, the AlphaMax can report to DPS' master unit, the T/Mon Remote Alarm Monitoring System.
Control from any phone
To acknowledge alarms and control the AlphaMax, simply call it up. The dial up remote alarm detection system features built-in support for DTMF control, so you can operate it remotely just by punching in touch tone codes, like having a voice mail system for accessing your alarms.
Using the DTMF control, you can request status reports of all alarm points, acknowledge alarms, and operate control points.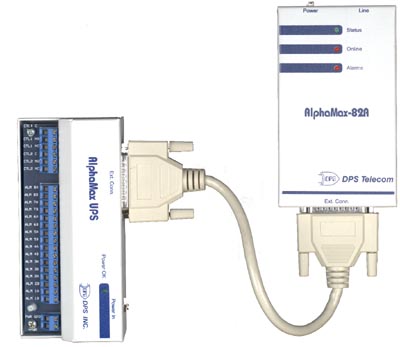 This accessory connector block/uninterruptible power supply provides up to three hours' backup power for the AlphaMax
Capacity
The AlphaMax has eight contact closure inputs — just right for monitoring the essentials at a small remote site, such as telephone switchgear, power supplies, communications tower beacon lights, and door locks.
The unit also features two control relay outputs for controlling remote site devices such as door locks and security lights.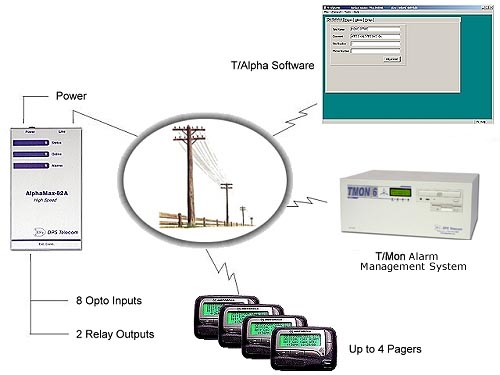 The AlphaMax reports alarms to up to four pager, and also can report to the T/Mon Remote Alarm Monitoring System. (All images courtesy DPS Telecom.)
Physical Unit
The AlphaMax is an extremely compact wall-mount unit that can unobtrusively be placed anywhere at your remote site. The unit is 5.3" by 3.1" by 1.25", with two keyhole mounting points on the back for mounting on the wall, or in a frame or rack.
Out of the box, the AlphaMax is powered by a single –48 volt DC power input, but a 9 volt AC adapter is also available.
AlphaMax 82S specifications
Alarm capacity: 8 contact closures
Control relays: 4
Dimensions: 3.1" W x 5.3" H x 1.25" D
Mounting: wall, frame or rack.
Power Input: -48 VDC or 9 VDC from AC adapter
Operating Temperature: 32° to 140° F (0° - 60° C)
Operating Humidity: 0%–95% noncondensing
Extra features
Uninterruptible power supply connection block: The accessory UPS connector block simplifies connections and provides backup power during outages. The UPS block is a compact unit with screw lug terminals for alarm and control points. The UPS batteries can provide up to three hours of backup power.
ASCII access: The AlphaMax 82S can connect to the ASCII craft port of a remote site PBX or microwave radio, giving you access to ASCII data and remote configuration.
Derived controls: The AlphaMax's control relays can be configured to operate automatically in programmed response to combinations of alarm inputs — you can set the AlphaMax to automatically switch on backup lights if a tower beacon fails, start backup generators in case of power failure, and other operations.
Remote configuration utility: The AlphaMax includes a Windows configuration utility. Really neat feature — once you've defined your AlphaMax's configuration, you can download it to the unit through its own modem connection.
Bottom Line
The AlphaMax 82S sets a very high standard for a compact dial up remote. There are more features here than you'll find in many large-scale remotes, and they all make for more secure and convenient monitoring of your remote sites. Obviously, the unit isn't designed for monitoring large remote sites, but for small sites, the AlphaMax is a perfect right-size solution.
Get more info on the AlphaMax dial up remote