Power Monitor Network System Offers Local Visibility and Easy Configuration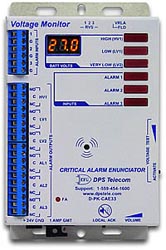 Critical Alarm Enunciator
Power Monitor Network System
Local visibility is the ugly orphan stepchild of remote power monitoring. Most systems concentrate on hauling alarms back to the NOC, not providing notification to personnel who are actually on the site. It's ridiculous, but techs who are actually there at the site often have to call the NOC to ask what's happening in the very room they're in.
It would be great if there was a simple, add-on box that could augment remote power monitoring gear with local alarm alerts. Filling this need is the recently released Critical Alarm Enunciator from DPS Telecom.
The CAE is a compact power monitor network system that provides local alerts of battery levels and other critical alarms, and it's completely compatible with your existing on-site alarm collection equipment.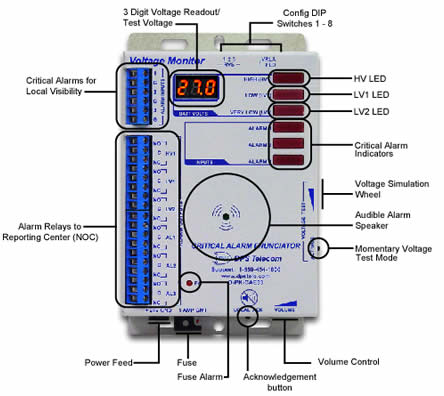 The Critical Alarm Enunciator provides local visibility of three battery level thresholds, three contact closure alarms, and live analog readout of battery voltage levels. (All images courtesy of DPS Telecom.)
Local visibility compatible with your existing remote power monitoring equipment
The Critical Alarm Enunciator is designed to serve as an add-on to your existing remote power monitor network system. The CAE's three voltage thresholds provide notification of battery draining after power outage (low voltage threshold); critically low voltage levels (very low voltage threshold) and excessive charge (high voltage threshold).
The CAE's alarm inputs are connected to your battery plant and other monitored equipment. Alarms received by unit activate local notification in the form of a flashing LED and an audible alert. (The alert can be silenced by pressing a button.)
Alarms are then relayed to your primary remote monitoring equipment through six control relays. Because the CAE uses control relays for alarm output, the unit is compatible with any remote power monitoring equipment.
Capacity
The Critical Alarm Enunciator is a light-capacity unit strictly for providing auxiliary local visibility in conjunction with your existing remote power monitor network system.
The centerpiece of the CAE is a single analog input for monitoring battery levels. It provides three separate thresholds, providing thresholds for low voltage, very low voltage, and high voltage alarms. The unit also has an additional three contact closure inputs.
The primary function of the CAE is to ensure that on-site personnel are notified of battery conditions. The three additional discrete alarms also make it a suitable unit for local notification of the most essential and critical on-site power monitoring alarms, such as circuit breakers, fuses, converters, inverters, and rectifiers.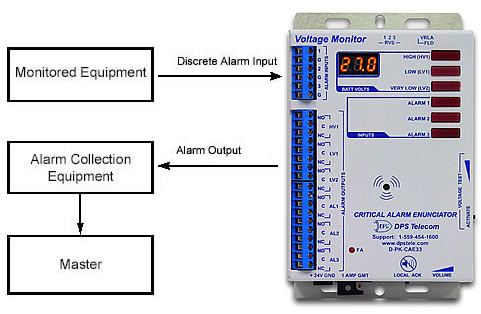 The Critical Alarm Enunciator receives alarm input from monitored equipment, provides local notification, and relays alarms to your existing alarm collection equipment.
Physical unit
The CAE is extremely compact, designed for discrete wall-mounting at remote sites. All alarm and control relay connectors are on the front panel of the unit.
Critical Alarm Enunciator specifications
Analog Alarm Inputs: 1 (battery monitor input)
Voltage Monitoring Range: +21.5 to +30.0 VDC
Discrete Point Inputs: 3 (reversible)
Control Outputs: 6 (alarm relay outputs)
3 digit display
Speaker Volume: 0–85 dB at 30 cm
Dimensions: 5"H x 4"W x2"D (12.7cm x 10.2cm x 5.1cm)
Weight: 3 lbs. (1.4kg)
Mounting: Wall mount
Power Input: +24 VDC
Current Draw: 550 mA
Fuse: 1 Amp GMT
Operating Temperature: 32° to 140° F (0° - 60° C)
Operating Humidity: 0%–95% noncondensing
Voltage Alarm Thresholds For VRLA:
High Voltage: +28.5 VDC
Low Voltage (LV1): +26.0 VDC
Very Low Voltage (LV2): +23.0 VDC
Voltage Alarm Thresholds For flooded system:
High Voltage: +27.9 VDC
Low Voltage (LV1): +25.4 VDC
Very Low Voltage (LV2): +22.4 VDC
Extra features
The Critical Alarm Enunciator has some high quality extra feature you wouldn't expect to see in a small, dedicated unit:
Live analog readings: The Enunciator's LED display gives a constant live analog reading of battery voltage levels.
Adjustable for different battery plants: The CAE supports two separate sets of alarm thresholds, for monitoring VRLA and flooded system battery plants.
Self-test function: You can confirm the correct operation of the CAE through it's self-contained and nicely done self-test function. By pressing a button and spinning a thumbwheel, you can simulate every voltage level within the CAE's range and make sure the alarms activate.
Bottom Line
The Critical Alarm Enunciator is a great little unit for what it does. It gives solid, reliable local notification of battery voltage thresholds and your other most critical remote site alarm conditions. We especially liked the live analog voltage reading on the LED panel, the self-test function, and above all, the CAE's easy alarm relay connections to existing power monitor network systems.
The only reservation we might have about this unit is that it's essential designed for one function. If your power monitoring needs lean more to a large, multifunction RTU, you'd definitely be better off with a NetGuardian 832A.
But if you need compact and easy local visibility of critical alarms, the Critical Alarm Enunciator sets a standard that's hard to beat.
Get more info on the Critical Alarm Enunciator power monitor network system