Find The Right TL1 RTU For Your Operations Support System

How We Rate the KDA 864-TL1 Alarm and Control TL1 Monitoring Equipment
The KDA 864-TL1 RTU is an alarm and control remote surveillance unit for your operations support system that packs 64 discrete alarms (contact closure monitoring) and 8 control relays into a single 19-inch housing and reports to an OSS using the Transaction Language 1 (TL1) protocol. The KDA reports alarms to your operations support system over dedicated or dial-up circuits (or LAN when used with the NIA Expansion card).
Interface Docking Modules
The KDA TL1 monitoring equipment is equipped with two communication interface docking modules. Optional interfaces include RS232, RS485, FSK, T-202, and a 212 AT–type modem. The modem option is also password protected to prevent unauthorized access. The Primary port is for your TL1 network interface. The secondary port (if equipped with a docking module) is for dial-in or dedicated line access for configuration or TL1 message retrieval. Our only complaint though is that it currently doesn't perform a dial-out function for alarm reporting, pager access or alternate path routing.
The configuration software also provides a standard modem or direct line connection function that accesses the KDA's secondary port directly from the configuration computer.
Capacity
The base KDA 864-TL1 monitoring equipment monitors 64 contact closures and can operate 8 control relays, the nice thing is that you're not stuck there if your site grows or your monitoring requirements expand. Using its daisy-chaining you can add up to 3 satellite KDA 864s for a total capacity of 256 contact closures and 32 control relays at a single location. Plus you get an additional expansion card slot with each satellite KDA.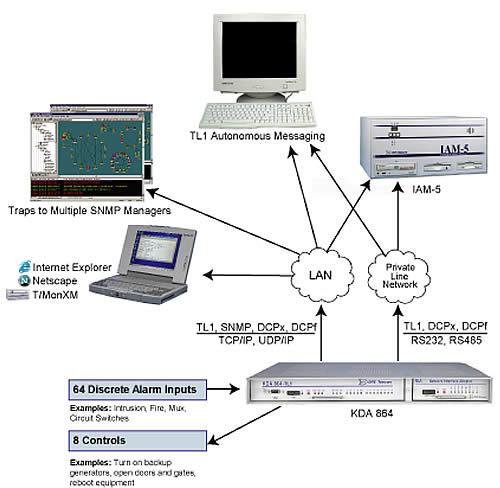 The KDA reports alarms over dedicated or dial-up circuits (or LAN when used with the NIA Expansion card).
Physical unit
The KDA 864-TL1 monitoring equipment fits easily into any standard telco environment in either 19" or 23" racks. The KDA is a card-based remote that has several benefits over the usual plain box type chassis. This enables the wiring to be completely separate from the circuit boards so should you ever need to upgrade, repair, or swap out spares you don't even have to touch the wiring after the first installation. This modular approach also means there are a lot more expansion options available using the KDA's expansion card slot (a bit more on those later).

The KDA 864-TL1 remote surveillance unit's rear panel provides for multiple connection options and expandability.
The KDA also boasts multiple options for connecting your alarms and communication lines. You can go with the connectorized option, which provides Amphenol and DB type connectors, or you might want to go with plain old wire wrap pins for those traditional telco environments. Either option works well with a 66-block to further isolate your wiring from the installed unit.
KDA 864 TL1 Specifications
Alarm capacity: 64 contact closures (expandable to 256)
Control relays: 8 N.O. relays form A contacts
Dimensions: 17.0"(W) X 12.0"(D) X 1.75"(H)
Weight: 3 lbs.
Mounting: 19" or 23" rack
Power Input: +/- 24 VDC, -48 VDC
Current Draw: 200 mA @24 VDC, 150 mA @-48 VDC.
Fuse: 1/4 Amp GMT
Operating Temperature: 0º to +60º or -30 º to +70 º Celsius
Operating Humidity: 0% to 95% non-condensing.
Our Recommendation
The KDA 864 TL1 monitoring equipment's flexibility and high capacity make this one attractive RTU. It's definitely got the traditional telecom telemetry environment down. You can use the same remote surveillance unit at all your sites, regardless of the size or specific needs of each site. Start out with the basics and expand as your needs dictate, or just keep it simple. Just scale up or down your configuration and add the appropriate expansion cards—it's all up to you.
Cool feature
While the TL1 protocol does not support the transmission of actual analog values, the analog expansion cards use four software defined threshold values to generate equivalent discrete alarm points. You can then enter the threshold values in the TL1 message condition field so that the threshold value is reported with the alarm.
Extra features: The Expansion Card Slot
An expansion slot is included to add cards for analog inputs, additional alarm inputs or control outputs, building access system, LAN access, or TBOS serial collection ports. 11 expansion cards are currently available.
Network Interface Adapter (NIA)

The Network Interface Adapter (NIA) interfaces the KDA directly to your LAN. On the downside, if you want LAN access, you lose your expansion slot. But on the other hand, if you've got sites without LAN, you don't have to pay for it and you can always add it later if the LAN gets extended to those sites.

LR24 and SR24 Relay Cards

The LR24 and SR24 Relay Cards provide 24 control relays to give the KDA 32 control relay outputs. On the LR24, the relays are magnetic latching and maintain their position in the event of power loss They also provide true position indication via a second set of contacts, which can be a handy feature.

EXP 832 Card

The EXP 832 card adds 32 alarm points and 8 control points. With this card, you get a very high density of 96 alarms and 16 controls in only one rack-unit of space.

Uninterruptible Power Supply (UPS) Expansion card

Provides up to 3 hours of backup power in case the office battery supply fails. (Only available for the 24 volt options though)

Building Access Controller

The BAC expansion card maintains a list of personnel who are authorized to access a facility. It is used with the Entry Control Unit (ECU) and keypad for integrated equipment, environmental, and security surveillance.

8 or 16 Channel Analog Expansions (Analog Reporting over TL1)

Choose from 8 or 16 analog alarm input cards. Each channel has 4 voltage scales, 4-20mA operation, and 4 alarm thresholds (2 over and 2 under). Typical uses include reporting temperatures, pressure, humidity, voltages, signal strengths, etc.

4 or 8 Channel TBOS Expansion

These cards provide 4 or 8 TBOS polling ports. Each port may poll up to 8 displays of data (512 alarm points). Uses typical RS485/RS422 interfaces.

7-Port Serial Expansion Card

This expansion adds 3 ASCII serial (craft) ports and 4 TBOS ports. TBOS data is converted into one DCPF address. Craft data is directly accessed as ASCII from T/Mon for monitoring switches, PBXs, routers, microwave radios, etc.
Get more info on the KDA 864 TL1 monitoring equipment
Postscript: What is TL1?
Transaction Language 1 (TL1) is a Bellcore-established alarm reporting language designed to standardize alarm messages produced by equipment used at telecommunications sites. By following TL1 guidelines, a manufacturer can embed a set of alarm messages in any network element (NE) that will be compatible with a TL1-based operational system (OS). These messages are written in ASCII, allowing monitoring on any dumb terminal. The messages may then be read by anyone familiar with the cryptic rules of the TL1 language. If you're interested in more information on TL1, check out this TL1 tutorial