High-Capacity SNMP Alarm Collection Remote Covers an Entire Site

NetGuardian 480
SNMP Alarm Collection RTU
It's hard to find much selection when you're shopping for an SNMP alarm collection RTU to monitor sites with lots of alarm points. The conventional wisdom is that if you're going to monitor large sites you have two choices: one big, expensive, complex RTU or many small, limited, and equally expensive RTUs.
The NetGuardian 480 from DPS Telecom proves that the conventional wisdom is wrong. This SNMP alarm collection unit provides enough alarm coverage for an entire site in a convenient, one-box solution.


The NetGuardian 480 forwards 80 contact closure alarms as SNMP traps to multiple SNMP managers. Note the connectors for dual –48 volt DC power inputs. (All images courtesy of DPS Telecom.)
Supports multiple SNMP protocol managers and other reporting options
The NetGuardian 480 can forward alarms to two separate SNMP managers at different IP addresses, which is great for filtering and directing alarms to different departments.
With alternate firmware, the NetGuardian 480 supports TL1 or TABS.
All versions of the NetGuardian 480 support alarm reporting to DPS' master unit, the T/Mon Remote Alarm Monitoring System.
Multiple alarm reporting gives you several options for pursuing a geodiverse backup strategy. If your alarms are being forwarded to two SNMP managers and a T/Mon system, there's very little chance that you'll ever lose all your alarm coverage.
Capacity
The prime feature of the NetGuardian 480 is its large-scale alarm capacity — with 80 contact closure inputs, the NetGuardian 480 is easily enough RTU to monitor telephone equipment, power supplies, intrusion alarms and so forth for any medium or large site.
It's equally noticeable what was left out of the NetGuardian 480. The unit has no analog inputs, serial ports, or other add-ons. (If you need more features in an SNMP alarm collection RTU, you might want to consider a more full-featured unit — see our NetGuardian 832A review here.)
But the NetGuardian 480 is simplified rather than stripped. For what it's designed to do — move a lot of alarms to your SNMP manager — the NetGuardian 480 covers everything you need. Cutting out unnecessary and expensive extras is a major part of the unit's appeal.
Rounding out the NetGuardian 480's capabilities are four control relay outputs for starting backup equipment like generators, operating door locks and latches, and other remote operations of on-site equipment. The control relays can be operating from any SNMP manager by issuing a SET command.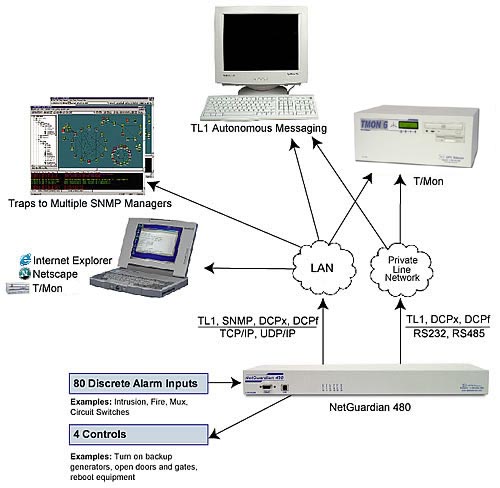 The NetGuardian 480 supports multiple SNMP managers and T/Mon, making it a great unit for geodiverse backup monitoring.
Physical unit
The NetGuardian 480 fits easily in any standard telco operating environment. The unit is 1 RU high, mountable in standard 19" and 23" rack, and requires a –48 volt DC power supply. Dual –48 volt power inputs are provided to accommodate a backup power source.
NetGuardian 480 specifications
Alarm capacity: 80 contact closures
Alarm qualification time: Adjustable from 100 to 9,000 msec
Control relays: 4
Dimensions: 1.75" H x 17" W x 12" D
Weight: 4 lbs. 3oz. (1.9 kg)
Mounting: 19" or 23" rack
Power Input: –48VDC (–40 to –70 VDC)
Current Draw: 250 mA
Fuse: 0.5 Amp GMT
Operating Temperature: 32°–140° F (0°–60° C)
Operating Humidity: 0%–95% non-condensing
Extra features
The NetGuardian 480 isn't entirely no-frills. The unit includes some added conveniences for more efficient monitoring:
Nuisance alarm filtering: You can set alarm qualification times for the unit from 100 to 9,000 milliseconds, cutting out alarms from temporary or oscillating conditions.
Real-time clock: An internal clock adds date/time stamps to SNMP traps. The clock can by synchronized to an Internet Time Protocol server over LAN.
Bottom Line
If you need large-capacity SNMP alarm collection, the NetGuardian 480 is tough to beat. For large sites, the NetGuardian 480's dense alarm coverage — in just one unit — saves you from the expense of buying multiple, low-capacity RTUs.
Our only caution about this unit is that you should keep in mind what it was designed for. With 80 contact closures, four alarms, and little else, you'll probably want an RTU with more features for some applications. But for large-scale monitoring, the NetGuardian 480 is a cost-effective choice that easily outcompetes fancier RTUs.
Get more info on the NetGuardian 480 SNMP protocol RTU