How to Easily Mediate Your TBOS Alarm Collection to SNMP

NetMediator T2S
TBOS Alarm Collection and Mediation
You may think that SNMP is the wave of the future, but older telemetry protocols never really disappear. Case in point: TBOS (telemetry byte-oriented serial) protocol, a veteran of the Ma Bell era that's still widely used today.
Legacy protocols endure for two reasons: either they're embedded in functioning equipment that shouldn't be replaced, or they have important features that newer protocols don't reproduce. With TBOS, it's both. There's a lot of TBOS equipment out there, and many telemetry professionals swear that TBOS provides more detailed alarm information than SNMP traps.
But for most network managers today, using TBOS alarm collection requires a solution for mediating TBOS output to SNMP. That's where the NetMediator T2S from DPS Telecom come in. The NetMediator converts alarms from up to eight TBOS devices to SNMP traps, and it also has all the functions of a medium-sized RTU.
TBOS alarm collection for SNMP managers
The central feature of the NetMediator T2S is the eight serial ports on the back panel. Four of these are standard RS-485 TBOS ports; the other four are RS-232. These ports are primarily used for mediating TBOS alarm monitoring data to SNMP, but they also have other functions.
To configure a specific port for TBOS alarm collection is simplicity itself, using the included Windows-based configuration utility. All you have to do is select a TBOS port from pull-down menu. Once the device is selected, all 64 points of the TBOS display are configured with appropriate preset definitions.
Each point of each TBOS display can be individually configured to transmit an SNMP trap. You can use this function to forward all TBOS alarms to your SNMP manager or filter your TBOS alarm monitoring so only the alarms you need are forwarded.
Capacity
In addition to its mediation features, the NetMediator T2S also functions as a medium-sized RTU. The NetMediator has 32 contact closure inputs, eight analog inputs, and eight control relays.
That's sufficient capacity to monitor telephone equipment, batteries, rectifiers, door alarms, temperature, humidity, etc., at most average-sized sites.
The NetMediator T2S also supports eight control relays for remote operation of on-site equipment.
With the NetMediator's additional TBOS-to-SNMP mediation capabilities, this one unit can meet all the monitoring needs of your remote site.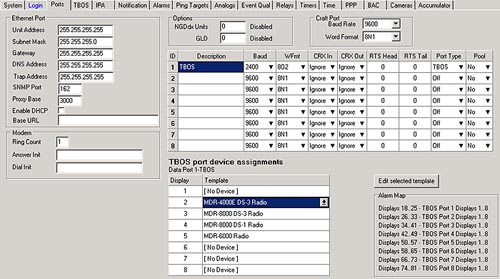 TBOS alarm collection configuration is quick and easy with the NetMediator's configuration software
Physical Unit
On the rack, the NetMediator T2S looks like any other RTU. One RU tall, the NetMediator mounts in any standard 19" or 23" rack, and requires a standard telco –48 volt DC power source.


The NetMediator T2S mediates up to eight TBOS devices to SNMP, plus it monitors 32 contact closure alarms and 8 analogs. (All images courtesy DPS Telecom.)
NetMediator T2S specifications
TBOS mediation ports: 8
Alarm Capacity: 32 contact closures, 8 analog inputs
Control relays: 8
Dimensions: 1.75"H x 17"W x 12"D
Weight: 4 lbs. 3 oz. (1.9 kg)
Mounting: 19" or 23" rack
Power Input: +24 VDC
Current Draw: 200 mA
Fuse: 0.75 Amp GMT
Operating Temperature: 32° to 140° F (0° - 60° C)
Operating Humidity: 0%–95% noncondensing
Extra features
The NetMediator's eight serial ports can also be configured to support other functions:
TCP reach-through ports: when configured for TCP, the serial ports give handy LAN access to remote site equipment such as telephone switches, routers, and PBXs. Connect these devices to the NetMediator and they're available via LAN for rebooting, configuration, and control.
Multiply serial ports: If you need access to even more serial devices, you can connect a device from DPS Telecom called a Serial Port Switch 8, which connects an additional eight serial ports to a NetMediator serial port. Potentially, you could use a NetMediator to monitor 64 serial devices.
Bottom Line
For mediating TBOS alarm collection to SNMP, the NetMediator is a great solution. No other unit makes converting TBOS alarms to SNMP so easy — the configuration is so simple it's literally a matter of plug and play.
Our only reservation about the NetMediator T2S is that the configuration might be too simple. Your configuration options are limited to selecting from the TBOS device templates that are preloaded into the unit at the factory, so you should evaluate what TBOS devices you need to support before you order.
But that simple configuration is well worth it. You can deploy NetMediator T2S units throughout your network and know that every unit is correctly configured. For TBOS-to-SNMP conversion — and don't forget the NetMediator's full RTU capabilities — you won't find a better unit.
Get more info on the NetMediator T2S TBOS alarm monitoring and mediation unit