Truly Cost-Effective SNMP Network Monitoring for Smaller Sites

NetGuardian 216 SNMP Network Monitoring Unit
If you've got small remote sites to monitor, it's hard finding an SNMP RTU that isn't too much capacity for too much money. Most vendors focus on the high end of the market, offering only one-size-fits-all RTUs that are better suited for major hubs, not small huts or cabinets.
The high cost of large-scale RTUs prevents many network managers from implementing network monitoring of their smaller sites at all — but small-site blindness is not a good strategy for maintaining your network. Serious problems can happen at small sites just as easily as at large ones.
To fill the gap in the market, DPS Telecom recently introduced the NetGuardian 216. This right-size SNMP RTU is an excellent fit for SNMP network monitoring smaller sites without expensive excess alarm capacity or a kitchen sink's worth of features you don't need.


The NetGuardian 216 supports 16 contact closures, 2 analogs, 2 controls, plus 1 terminal server reach-through port. (All images courtesy of DPS Telecom)
TL1 or SNMP network monitoring
The NetGuardian 216 can report to up to three SNMP managers — a nice feature for sending alarms to different departments. It also supports TL1 alarm reporting and DPS Telecom's own master unit, the T/Mon Remote Alarm Monitoring System.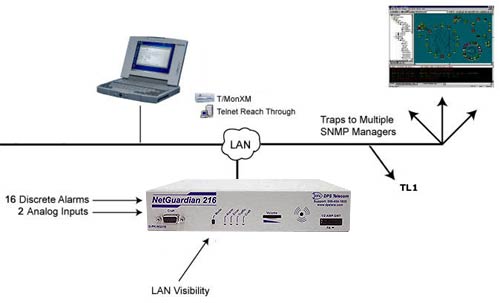 The NetGuardian 216 supports multiple SNMP managers at multiple IP addresses, and is also available for TL1.
Capacity
At 16 contact closure inputs, 2 analog inputs, and 2 control relay outputs, the NetGuardian 216 is a scaled-down version of DPS' popular large remote, the NetGuardian 832A. (See here for a NetGuardian 832A review.)
Analog refinement: The NetGuardian 216's analog inputs feature four separate alarm thresholds for accurate monitoring of voltages, temperature and humidity. The analogs are accurate to within 1% over a range of 1 to 90 volts.
Mini terminal server: The NetGuardian 216 also features a single serial reach-through port, for accessing a switch, router, or PBX over LAN.
That capacity is just right for monitoring a small telco site. In a typical NetGuardian 216 application, you could use this unit to monitor telephone switch equipment, power supplies, battery voltage level and humidity, plus control a generator starter and a door lock.
The NetGuardian 216 is also effective unit for monitoring collocation site enclosures, giving you a reasonably-priced means of monitoring your equipment independently.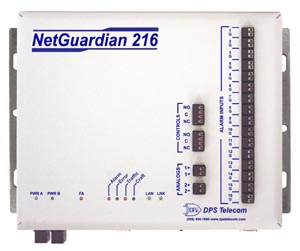 If you need to save space at your remote site, you might be interested in the wall-mount version of the NetGuardian 216
Your choice of form factors
In designing the NetGuardian 216, DPS didn't forget that sites that are short on alarm points are usually small on space too. The unit is available in two space-saving form factors.
The rack-mount NetGuardian 216 is 1 RU tall, eight inches wide, and six inches deep, and it can be installed in 19" or 23" equipment racks. If you later add more equipment to your remote site and need more monitoring capacity, you can mount two NetGuardian 216s side-by-side, still taking up only 1 RU of rack space.
At remote sites where space is really at a premium, like enclosed cabinets or collocation site equipment cages, you should consider the wall-mount NetGuardian 216, which can be easily fitted anywhere you need. The wall-mount unit has the same dimensions as the rack-mount NetGuardian 216, but with the connectors and LEDs relocated to a broad vertical panel.
NetGuardian 216 specifications
Alarm capacity: 16 contact closures, 2 analog inputs
Control relays: 2
Dimensions: 1.75"H x 8"W x 6"D
Mounting: 19" or 23" rack or wall mount
Power Input: -48VDC (-40 to -70 VDC); optional dual power inputs or 9 VDC from 110 AC wall transformer
Current Draw: 50 mA
Fuse: 0.5 Amp GMT
Operating Temperature: 32°-140° F (0°-60° C)
Operating Humidity: 0%-95% noncondensing
Extra features
The NetGuardian 216 offers some added refinements:
AC power option: The NetGuardian 216 can also be adapted for central office environments, with an option for 9 volt DC power from a 110-volt AC wall transformer.
Dual-power option: Standard, the NetGuardian has one –48 volt power input, but if you want redundant backup power, a dual –48 volt input version is available.
Internal Clock: The built-in real time clock is continuously synchronized to Internet Time Protocol servers and provides date/time stamps for SNMP traps.
Bottom line
The NetGuardian 216 is a well-designed RTU for SNMP network monitoring of sites with few alarm points. It's best feature is what it leaves out — this unit doesn't pile on unnecessary extras, so you can afford to install this SNMP RTU at all your small remote sites. If you need a larger, full-featured remote, you'd probably be better off considering the 216's big brother, the NetGuardian 832A.
Get more information on NetGuardian 216 SNMP network monitoring remote