Integrate non-SNMP Devices with SNMP Alarm Monitoring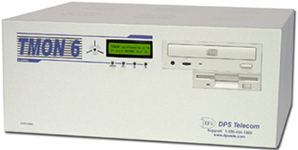 T/Mon Remote Alarm Monitoring System
One of the biggest hurdles in SNMP alarm monitoring is all the other protocols you have to support: TABS, TBOS, E2A, TL1 — not to mention the vast collection of proprietary-protocol monitoring equipment that pervades older networks.
That's what makes network managers rush to standardize on SNMP. But simply having an SNMP manager won't end your troubles — if your network is typical, you probably have a ton of non-SNMP equipment in the field. Your non-SNMP equipment works fine, it's too expensive to replace, and it's too critical to just not monitor it. But if you're committed to SNMP alarm monitoring, what can you do with it?
To solve this problem, DPS Telecom offers its T/Mon Remote Alarm Monitoring System. T/Mon is really an alarm monitoring master, but when fitted with the appropriate optional software, it becomes a SNMP proxy agent for multiple sites. T/Mon can take non-SNMP alarms from all your remote sites, mediate them to SNMP traps, and forward the traps to your SNMP manager.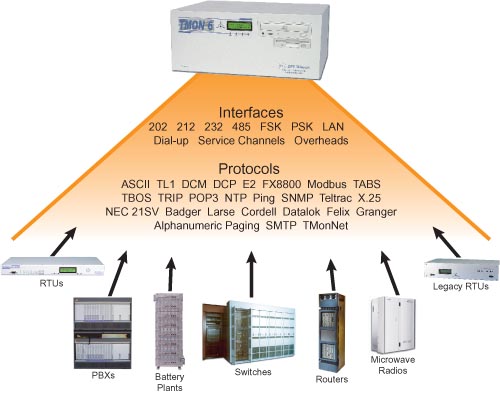 T/Mon supports practically every device and protocol in your network, and converts them all to SNMP traps. (All images courtesy of DPS Telecom.)
What devices does T/Mon support?
The most impressive thing about T/Mon is the number of input protocols it can mediate: ASCII, E2A, SNMP, TABS, TBOS, TL1 and Modbus, which covers most of the equipment out there.
T/Mon also supports proprietary protocols from other companies: Larse, Badger, NEC, and Pulsecom, plus a few others.
Caution: support for all these protocols isn't part of the base T/Mon package. You have to buy additional software modules for each protocol. On the plus side, T/Mon modules support any device that uses the protocol. If you need to support three different kinds of TL1 device, you just buy one TL1 module instead of three separate device-specific modules.
If you need support for a device that isn't their list, DPS offers custom development of protocol support modules. I'm generally suspicious of custom development — most companies will charge you an arm and a leg for their trial-and-error experiments. But DPS offers a couple of safeguards: they don't charge NRE fees for custom work, and they offer a money-back guarantee on their product if it doesn't work.
We hold these truths to be self-evident, that all alarms are created equal
The real genius of T/Mon is what it does with the alarms it collects. Once they're in the system, all alarms are treated the same, which means you can collect alarms from any piece of supported equipment and forward them as traps to your SNMP manager. You don't have to worry about MIB hunting or adapting legacy equipment — if it's supported by T/Mon, you can integrate it with your SNMP alarm monitoring.
Incidentally, you can use T/Mon's alarm forwarding features for more than SNMP. T/Mon supports almost as many output protocols as inputs, mediating alarms to ASCII, E2A, SNMP, TABS, TBOS, and TL1.
You can also forward alarm output to multiple targets, so if necessary, you could be monitoring a large network of diverse devices with T/Mon, and forwarding all the alarms to several SNMP managers, a TL1-based OSS center, and an ASCII recorder all at once.

The T/Mon rear panel features up to 24 serial and modem ports for connecting legacy devices.
Physical unit, installation and configuration
The T/Mon unit itself is a rack-mount device, available in dual-power –48 volt or commercial power versions. Besides Ethernet, it supports a plethora of legacy ports for attaching serial and modem devices.
How you install a T/Mon depends on your ego. If you're really comfortable with legacy connectors and alarm telemetry databasing, you might want to do it yourself. DPS offers an installation and configuration service combined with a four-day on-site training course, and I recommend the full service if you want to get the most from the system.
If you have a T/Mon, do you really need an SNMP manager?
T/Mon works great for forwarding SNMP traps, but if you work with it for a few days, you start to wonder why you couldn't just monitor all your network alarms with T/Mon.
First, T/Mon can receive SNMP traps as well as forward them, so it can monitor your SNMP equipment as capably as everything else.
Second, there's something really reassuring about having one system that can cover your whole network. If all your sites report green on the T/Mon display, you can be pretty certain that there's no secret problems anywhere in the network. That's good peace of mind.
T/Mon also has some cool features for SNMP alarm monitoring that are much better than the bare-bones telemetry functions of a standard SNMP manager. T/Mon filters nuisance alarms, keeps standing alarm and COS alarm lists, sends out pager and email notifications, and even gives system operators little text instructions for correcting alarms.
Bottom line
T/Mon won't replace your SNMP manager. DPS is careful to call their SNMP monitoring system an "SNMP Trap Processor," and says T/Mon is strictly for SNMP alarm monitoring. T/Mon doesn't support in-depth SNMP device management, and integrating billing and inventory are outside the scope of its objectives.
But those are minor quibbles. Achieving what DPS has — orchestrating SNMP alarm monitoring support across so many protocols and platforms — is no small accomplishment. If you need to work with multiple protocols, T/Mon is definitely worth a look.
Get more info on the T/Mon SNMP alarm monitoring system