Wire Wrap RTU Brings SNMP Remote Monitoring and Control to Main Distribution Frames

Remote Alarm Block 176N
SNMP Remote Monitoring and Control Unit
Telcos are increasingly turning to SNMP remote monitoring and control, but that doesn't mean it's easy to find an SNMP RTU for traditional telco environments. Few manufacturers are making SNMP telemetry equipment that's compatible with existing equipment and interfaces.
Solving this problem is the Remote Alarm Block 176N (or RAB, for short) from DPS Telecom. This SNMP remote monitoring and control unit is specifically designed to be installed in a telco main distribution frame, providing a quickly installed, SNMP compatible way to monitor the large number of alarm points you'll typically find in a telco central office.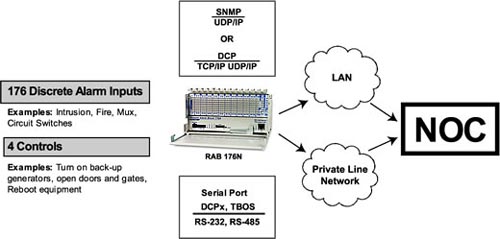 Dual-responder capabilities make the RAB an excellent choice for integrating traditional telco telemetry with SNMP alarm monitoring. (All images courtesy DPS Telecom.)
Bridge between classic telco and SNMP monitoring
The Remote Alarm Block is a great unit for quickly implementing SNMP remote monitoring and control at traditional telco central offices, and it's not just because of the wire wrap terminations. The RAB's dual responder capabilities let you get the best of both SNMP and classic remote monitoring and control.
The Remote Alarm Block will report simultaneously to your SNMP manager over a LAN connection and to the T/Mon Remote Alarm Monitoring System (DPS' own master unit) over an auxiliary serial connection.
The SNMP alarm reporting will keep the IP-oriented people at your network operations center happy, and T/Mon's features for telemetry alarm handling and reporting provides the right kind of actionable information for system support and remote site maintenance personnel. (See here for a T/Mon review.)
If you need support for other classic telemetry protocols, DPS also makes a serial-only Remote Alarm Block variant that supports TBOS.
Capacity
The Remote Alarm Block is small physically, but it's certainly big on capacity. The unit supports 176 contact closure alarm points, enough to provide remote monitoring and control for an entire remote site or central office.
The RAB's compact size creates a simple expansion path — two RABs can be seated side-by-side in a 17" or 23" equipment rack. DPS sells a special mounting bar for this purpose. That gives you 352 alarm points, and when you consider that two RABs only take up 3 RU of space, you have a pretty good alarm point per RU density.
The RAB also supports four control relays for remote operation of site equipment: opening doors, turning on generators, rebooting equipment, etc.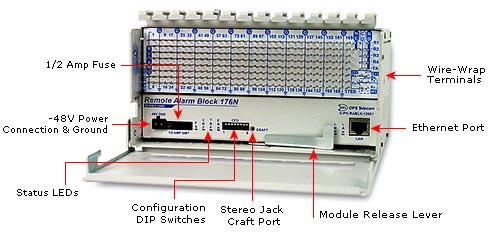 The RAB 176N's wire wrap terminals are tailor made for main distribution frames
Physical unit
The most visible feature of the Remote Alarm Block is its large grid of wire wrap terminal pins. The wire wrap terminals are the physical interface for all the RAB's alarm inputs, control relay outputs, and auxiliary serial port connections.
The wire wrap terminals makes the RAB a natural fit for main distribution frames handing thousands of cable terminations. If you're going to install this unit yourself, you'd better be familiar with how to use a wire wrap gun. (There's built-in tie-down loops at the top of the unit to keep all those cables tidy.)
For SNMP alarm reporting, there's an Ethernet port on the front panel of the unit, the only non-wire wrap connector.
The RAB is tailor-made for main distribution frames in other ways, too. The unit is extremely compact (just 4 x 8 x 5 inches). If you really want to save on rack space, the unit can be wall mounted.
Interesting feature: the circuit card can be entirely taken out of the case by pulling a lever. If the circuits get fried, or you want to upgrade your unit, you can trade out the circuit card module without disturbing the wire wrap connections.
Remote Alarm Block specifications
Alarm capacity: 176 contact closures
Control relays: 4
Dimensions: 4"x 8"x 5"
Weight: 4 lbs (1.8 kg)
Mounting: 19" rack, 23" rack, or wall mounting
Power Input: –48VDC (–40 to –70 VDC)
Current Draw: 50 mA
Fuse: 1 Amp GMT
Operating Temperature: 32° to 140° F (0° - 60° C)
Operating Humidity: 0%–95% noncondensing
Bottom line
The Remote Alarm Block is well designed for its purpose — integrating SNMP remote monitoring and control at telephone offices oriented around main distribution frames. The only reason I wouldn't say the RAB is for everyone is the wire wrap terminations, which are best suited for trained telco personnel. (If you want an SNMP RTU with easy connectorization, check out this NetGuardian 832 review.)
But when you consider its huge number of alarm points and compact case, the Remote Alarm Block is a desirable remote for any network manager who wants to save rack space and get high density alarm reporting.
Get more information on the Remote Alarm Block 176N SNMP remote monitoring and control unit